(News excerpt from Free Malaysia Today. Article by Minderjeet Kaur. News link)
PETALING JAYA: The Federal Agricultural Marketing Authority (Fama) can play a role in helping rubber tappers who are going through rough times due to low prices of rubber, says a Parti Sosialis Malaysia leader.
Dr Michael Jeyakumar Devaraj said rubber tappers should be encouraged to rear cattle and goats and plant fruit trees, and Fama could then buy the milk, mutton and fruits under a forward contract with tappers.
"Fama can enter into a contract with rubber tappers to buy certain amount of fruits at a specific rate in the future," he told FMT.
He said Fama can also gauge the market and advise them accordingly.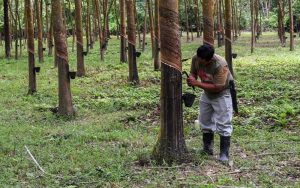 (Picture courtesy of Bernama)
"If Fama feels there are too many rambutans, then they can ask the smallholders to plant mangosteen, for instance."
These products could then be processed, dried, turned into syrup or juice and marketed worldwide, he said.
But for this to happen, Jeyakumar said Fama needed an effective marketing team to sell the products globally.
Fama could also buy diary milk and mutton from them, he said, adding that only 15% of milk and 20% of mutton was produced locally.
"This way we increase the local production while helping our rubber tappers," he added.
There were about 200,000 to 300,000 rubber tappers with 3 to 5 acres of rubber trees, he said, adding that some of them earned only about RM1,000 a month.
He said some tappers were keen on planting fruit trees to earn a side income.
Some had tried, as previously suggested by the government, to plant langsat or duku.
"But these fruits are seasonal fruits and produce yield at the same time, causing fruits to go bad without proper buyers," he said.
With a "forward contract", the tappers would know that a certain amount of their yield could be sold to Fama. This way they could also plan their future yields, he said.