Source: Malaysiakini, Susan Loone.

Parti Sosialis Malaysia has urged the Penang Islamic Affairs Council (MAIPP) to put a stop to the eviction of 19 families from the Tanah Wakaf Abdul Cauder in Butterworth.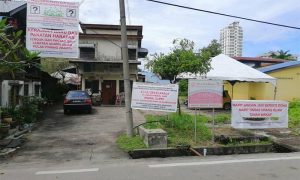 R Karthiges, coordinator of Penang PSM's housing network, said the families have already been informed that they will be "chased out" (usir keluar) tomorrow by MAIPP, who own the mixed development project.
"The families refuse to leave, as not all were offered free replacement homes, and five families were left out. The RM500 rental fees offered to the families (pending compensation) are not enough to rent a house around Butterworth," he said in a statement.