Source: Malaysiakini
SEMENYIH POLLS | PSM is upset by the decision to cancel the proposed debate between Semenyih by-election candidates.
In a statement today, its election director S Arutchelvan said it was unfair for electoral watchdog Bersih to call off the event just because BN and Pakatan Harapan had turned down the debate invitation.
"Why do you need to cancel it just because BN and Harapan candidates declined to join? The PSM and independent candidate are ready to debate."
In allowing the big parties to dictate whether or not a debate occurs, Bersih was denying democratic space to other voices, he contended.
"This shows that only big and powerful parties can influence whether a debate happens or not," he said.
"The debate would have given smaller parties and the independent candidate a fairer chance to communicate their views to a wider audience," Arutchelvan added.
Yesterday, Bersih had thanked PSM candidate Nik Aziz Afiq Abdul and independent candidate Kuan Chee Heng for agreeing but explained that it "would not be meaningful" to hold the debate and air it on national television if candidates from the country's two main coalitions did not participate.
BN's Zakaria Hanafi had turned down the offer citing he wanted to focus on solving the people's problems, saying that a debate was merely a popularity contest among individuals.
Harapan's Muhammad Aiman Zainal said no apparently because Zakaria, his main contender, would not be debating.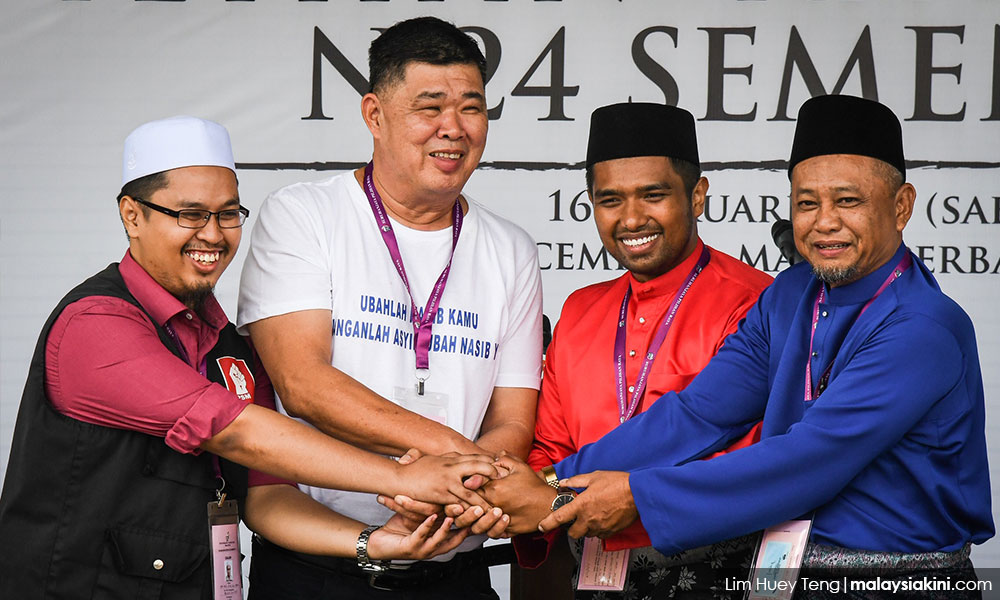 It's not just BN and Harapan contesting
Arutchelvan said he was disappointed in BN and Harapan's stance, but contended that Bersih should have allowed the debate to continue among "the brave".
"By cancelling it, this means those who turned down the debate have won.
"This by-election is not just between Harapan and BN, alternative parties should also be given the chance to debate.
"Perhaps this can teach Harapan and BN a lesson," he said, adding that a debate would have shown the ability of candidates to represent their constituents in a state assembly.
With this, Harapan could not longer claim the higher ground when it came to debates, Arutchelvan also said.
"With Harapan's decision to not debate, they do not have any legitimacy to criticise or berate any Opposition parties who refuse to debate them on any issues in the future," he quipped.
During the Cameron Highlands by-election last month, Harapan candidate M Manogaran had criticised BN's Ramli Mohd Nor for excusing himself from their debate, questioning his ability to raise issues in Parliament.